The one element that permeates every aspect of your experience at Ladore isn't provided by our staff or found in any facility. Rather, it is God-made…nature.. and truly beautiful. People sense God's presence as they enjoy our mountains, fields, and the lake.
Many of our guests discover serenity and relaxation through nature. A Prayer Walk begins at the Main Lodge and is designed to encourage you to stroll the grounds and enter into a time of reflection. Each of the stations explains the surrounding area and encourages you absorb all the different aspects of creation, their beauty and the majesty of God as you listen to Him as He speaks to you.
The Grand Patio is one of our newest locations for relaxation and activity. It is covered in hand laid brick and features a comfortable wicker sectional under a pergola fronting an outdoor fireplace. This is also a great place to gather some friends to play a lively round of miniature golf, bocce or shuffleboard.  Ladore is one of the few spots in the Northeast that offers a handicap accessible miniature golf course. Just a few steps from the grand patio are the horseshoe pits – all the games are easily accessible. Tables with umbrellas and chairs dot the grand patio giving our guests plenty of space to socialize.
Just off the grand patio, the Ladore Gift Shop offers a wide variety of goodies to satisfy any craving, that special item to commemorate your visit, or something special for the gang at home. There is a great selection of books and CD's, apparel and a variety of locally made items, all reasonably priced. The gift shop has regular hours during the Senior program and may be opened based upon a retreat group's schedule.
Our enclosed pool area is especially lovely in the fall and winter when it offers a clear view of the lake. During the rest of the year view expanses of lawn and wooded areas. This area is over 7,500 sq. ft. and features a glass enclosure on three sides, deco lighting, two comfortable seating areas with a number of loungers, tables w/umbrellas and chairs.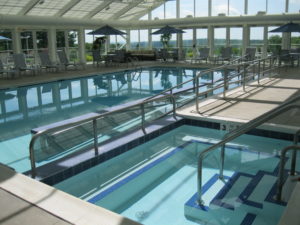 There are two changing rooms for guest's convenience and 2 showers. The pool features a handicap accessible ramp or you can enter via the stairs. The pool runs from three foot at the shallow end to five foot at the deep end. Enjoy the welcoming waters of our heated pool – good for body, mind and spirit. There is an eight person hot tub alongside the pool.
Groups with children will have access to the pool only during designated pool times when a lifeguard is present.
Our newly designed Fitness Room features a gym quality recumbent bike and treadmills; a stepper, exercise balls, yoga mats, exercise bands and a water cooler. A large screen TV graces the wall for your entertainment. The privacy of the area allows you to exercise without interruption.
Come inside the Game Room and test your playing skills at billiards, ping-pong or darts. A variety of board and card games are at your disposal. Video games provide another avenue for your enjoyment.  This room is open 24/7 for your enjoyment.
During the warmer months (May – Sept) we offer canoes and rowboats for a $15.00 per day fee. Our canoes hold two, and we ask all boating to wear a life jacket. Directions on boating and recommended area of the lake are available at the lobby front desk.
Groups can also book a pontoon boat ride on the USS Ladore for $50.00. Rides last between 45 – 60 minutes. Seeing Ladore from the water gives a very different prospective of the campus. The boat leaves from the lodge dock, tours the entire 265 acre lake, then returns to the lodge dock. The USS Ladore holds up to 28. All riders are required to wear life jackets and must remain seated during the ride. Available May through October weather permitting.
Hayrides are available, weather permitting, for a $50.00 fee. Each ride lasts between 45 – 60 minutes.  These rides accommodate around 25 people. Hayrides should be scheduled when making your arrangements with our sales department.
Skiing: For winter sports enthusiasts, the best skiing in Northeastern Pennsylvania is only 30 minutes away! You have your choice of two top rated mountains – Elk Mountain or Montage Mountain.
Boating:
Ladore Complex Fishing and Boat usage policies:
  No personal boats are allowed
  All boats must be launched from the Lodge Dock
Fishing
Each person is required to adhere to PA State Fishing Regulations and have a valid PA fishing license.
We encourage guests to practice catch and release.
We encourage you to bring your own fishing equipment. Our equipment is very limited.  We do not supply live bait.
Public Area
Any person who calls and would like to go fishing at Ladore but isn't a paying guest of the facility is welcome to use the public access area for shore fishing. It is located on the Owego Turnpike near Savage Road.
The public area is clearly marked. Fishing is forbidden beyond the white buoys.
Ladore does not allow anyone other than guests to go on the lake.
Ladore offers a Ropes Challenge Course with seven different elements. This may be scheduled (as available) to enhance your retreat, or to be booked as a leadership development day. Participation at the Alice and Charlie Scott Challenge Course will enhance individual confidence and built better teamwork.
Basketball is available at select times at our outside courts or seasonally (mid-August – May and when available) at our PARC Pavilion. Ladore will provide the basketballs.
Volleyball can be set up outside in many locations. A collegiate level system exists at our PARC Pavilion and is available on a scheduled basis. Ladore will provide the volleyballs.
Two Baseball fields are available August – May. Ladore maintains limited equipment, so recommends that you bring your own.