We now have available a virtual tour of Ladore Lodge. You can head right through the main entrance and explore Ladore Lodge for yourself. See some of what our beautiful facility has to offer including the Chapel, dining room, conference room, and our grand patio. There are separate links to take you to the pool, park complex, carousel dining hall, and to see one of our guest rooms.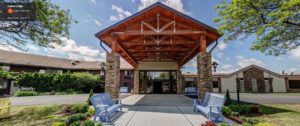 Click here to start your virtual tour of Ladore Lodge!
You can also check out here to see the pool and a twin guest room.
Virtual Tour of PARC Complex
Virtual Tour of Carousel Dining Hall