Pool Info
The Indoor Pool area is over 7,500 sq. ft. and features a glass enclosure on 3 sides, deco lighting, 2 comfortable seating areas with a number of loungers, tables with umbrellas and chairs. There are 2 changing rooms for guest's convenience and 2 showers. The pool features a handicap accessible ramp or you can enter via the stairs. The pool runs from 3 foot at the shallow end to 5 foot at the deep end. Enjoy the welcoming waters of our heated pool – good for body, mind and spirit. There is an 8 person hot tub alongside the pool. This area is lovely in the fall and winter when it offers a clear view of the lake. During the rest of the year view expanses of lawn and wooded areas.
Groups with children will have access to the pool only during designated pool times when a lifeguard is present.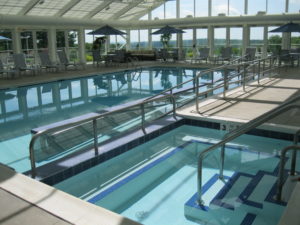 Pool Rules
No food or beverages are allowed in this area at any time.
Participants under the age of 18 must be accompanied by an adult.
Participants swim at their own risk. We ask everyone to exercise common sense and to use the "buddy system".
This area is limited to 40 people.
Participants must wear proper swim attire. Towels are provided; when finished please put them back in the appropriate place.
Please return any of the swim toys/equipment to its rightful place.
Pool Hours: Monday – Saturday from 10:00 am – 10:00 pm for in house guests.