Lodge Chapel:
The Lodge Chapel can seat 200 comfortably and 150/175 with conference tables. Wi-Fi and AV are available with a staff member who will assist with getting your group hooked up and trouble shooting situations which may arise. Ladore may provide a sound tech for an extra fee should your group need someone to care for your AV needs.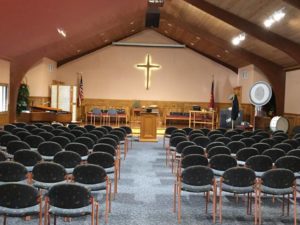 This room can be set up in multiple configurations: chairs theater style, in a circle, or with conference tables. Please discuss room set-up when making your retreat plans. This room also can also double as a multipurpose room.
1st & 2nd Floor Lounges:
1st & 2nd Floor Lounge both serve as either a group's main meeting space or a breakout room. Both rooms are identical with the exception of a vaulted ceiling in the second floor lounge. Set up theater style, each room can seat up to 45. Conference tables can also be set up in these rooms. Both rooms offer a TV/DVD and a piano. These are comfortable small meeting rooms. During the senior sessions these rooms serve as TV lounges with comfortable chairs. The rooms are both located right across from the elevator and are secluded enough for meetings or a place to relax. When these rooms are not in use by groups, guests can enjoy them as lounge areas.
Carver Board Room:
The Carver Board Room is our third meeting/breakout room and offers theater seating for 50 or conference seating for 25. An entire wall of windows makes this a bright, cheerful room making it a great spot for crafts or for lectures. A pictorial history of Ladore line the walls of this room.
Lodge Conference Room:
A fourth, and our newest breakout space, is the Lodge Conference Room. The room can be set up theater style, with conference tables, or board room style for up to 24 people. The room features a wall mounted monitor for computer presentations. It also has a microwave and refrigerator.
Annexes:
When staying in the Annexes the Annex Lobby works well for group meetings of up to 25 people. This versatile area can be set with chairs theater style, in a circle, or can be set with conference tables. This meeting space is centrally located to guest rooms. There is a kitchenette off to the one side equipped with a small refrigerator, sink, microwave and a coffee pot. Off the front of the building is a screened in porch. The Annexes are close to the Main Lodge, yet far enough away so you have that privacy some groups appreciate. The Annexes work well for small family reunions, couple's retreats and any other small group that needs a private space.
Staff Lounge: Seasonal
A beautiful structure located on the edge of the lake. It is adjacent to Seneca Village and the Harvey Lane Cottages. The large open room boasts two impressive fireplaces. The double decks on the exterior allow one to sit and meditate upon God's blessings while overlooking the tranquil lake. The Lounge has seating for up to 150 or can be set up as a game room offering a pool table, ping-pong, and table soccer. It can be set with scattered small tables to allow your group to play board games or to sit for small group discussions.
Activity buildings:  Cayuga/Mohawk Villages
These are multi-functional buildings situated in each of the villages. Each can accommodate up to 150 guests. They are winterized and offer a fireplace to create the perfect winter experience. Wooden floors and exposed, over-sized trusses, makes this an exceptionally picturesque place for retreat meetings. Both sides of the activity buildings are lined with windows, allowing view to nearby wooded areas. A small kitchen with full-size range and refrigerator are located within each activity building.
Activity Building:  Ai-Yuk-Pa Village
The Ai-Yuk-Pa Activity building is heated and features a gas fireplace. The building will accommodate groups up to 150, and offers lovely wooded views. A vaulted ceiling and plenty of windows make this a wonderful spot for your meeting.
Performing Arts and Recreation Center (PARC) Pavilion:
Whether you have a large group staying in multiple villages, or a large day group the PARC Pavilion is an amazing facility for gatherings and meetings. This 20,000 sq. ft. building is "state of the art." with a full theatrical stage, multimedia capabilities, and excellent acoustics. If your group needs lights, sound, and a stage, this is the location for you. Groups enter through a lovely functional lobby to your predetermined activity. The PARC can be set up as a regulation high school gym, a volleyball court, or set with seating for up to 1100 guests. The PARC offers flexibility: it can be divided into three spaces with a gym or auditorium, and two large break out rooms able to sit 100 each. Or, those same break-out rooms can be divided again into four smaller rooms sitting 40 guests each. Whatever the event, the PARC can handle the needs of your large group. Located at our south camp the PARC is just a short distance from our Carousel Dining Hall making it convenient for events featuring meals.
Click to see PARC Pavilion Virtual Tour
Carousel Dining Hall: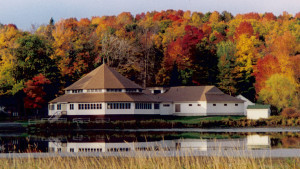 The Carousel gets it name from having been an "honest to goodness" carousel early in the 1900's. This is the oldest building on the property and offers a spacious dining area. Look up and you will see that this twelve sided buildings grandeur is matched by the size of the fan on the ceiling. This original structure features workmanship seldom seen in modern construction. Featuring 11,000 sq. ft. and a 40′ high ceiling, this wooden structure makes for a unique dining experience. It serves as the summer camp dining hall from June through mid- August. Available from mid-August until May it becomes the dining room for our large retreat groups, banquets, wedding receptions, and professional meetings, able to seat up to 350 guests at a time. Wi-Fi available.
Click to see Virtual Tour  Carousel Dining Hall