Ladore Main Lodge
The Main Lodge, a two story building that features grand views, and exudes a "ski lodge" atmosphere.   The Lodge will accommodate up to132 guests (66 guest rooms,) twelve kings and 48 with two double beds. Guests enjoy all the modern conveniences with a touch of rustic atmosphere. Guest rooms feature electronic key locks, free Wi-Fi, wall to wall carpeting; large windows offering scenic views; individually controlled thermostats for both heat and AC; and private baths with full tub and shower. Handicap rooms (4) are available upon request and feature emergency call buttons, and a raised toilet seat and walk/roll in shower. All guest rooms are equipped with sheets, pillows & blankets ,towels and washcloths. The facilities at The Salvation Army's Conference Center at Ladore are ideal for groups or individuals.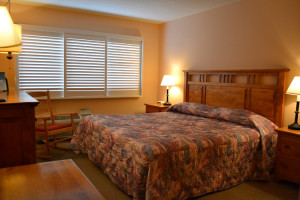 Annexes I & II
Just below the Main Lodge are the Annexes. These facilities allow for smaller groups, i.e., small church groups, couples retreat or family reunions; to take advantage of the great amenities of the Main Lodge yet allow them some seclusion from other guests. Each Annex features 12 guest rooms –  8 rooms with 2 full size beds, and 4 with 1 full size bed and 2 single beds. Every room features wall to wall carpeting, individually controlled heat and AC, electronic key card locks, free Wi-Fi, and has a private bath with tub and shower. Plenty of parking is adjacent to each Annex.
The Central Meeting Room/Lobby is equipped with TV/DVD/VCR, piano, comfortable lounge seating, and additional seating offering a variety of seating arrangements. The kitchenette features a microwave, mini refrigerator, sink, coffee pot and toaster. Just off the lobby/meeting room is a large screened in porch with grand wooded view. The central location of this room makes it easily accessible to all your guests.
The Annexes are a short walk on a lighted path to the main lodge where you can enjoy tasty meals in our dining room and enjoy the other amenities offers at the main lodge. Or you could drive the short drive if you prefer.
Included Amenities
In the Main Lobby you can relax by the double sided fireplace. Pull up a chair; grab a good book, sip a cup of coffee…no better place to enjoy some solitude or intimate conversation with friends. The friendly staff at the front desk are glad to answer your questions, provide forgotten toiletries, and ensure that your stay is an enjoyable one.
In the Dining Room help yourself to a cup of coffee, tea, hot chocolate or cold drink from 6:30am – 10:30pm. Savor sumptuous meals, prepared in our kitchen and served cafeteria style. Tables of 6 and 8 dot the entire dining room creating a wonderful space to gather. Special diets are accommodated on an individual basis. You will find the kitchen staff very helpful with any request for your specific needs.
The dining room can accommodate up to 135, but could be expanded to accommodate up to 200, if needed. The dining room has a sound system that is great for announcements or background music. The warm wood and décor makes this a very attractive and relaxing room for which to enjoy your meals.
The Multipurpose Room (MPR) has a generous supply of board games and plenty of room to play or sit down with a small group, or you could just watch TV. This area is open 24/7 for your enjoyment. Note: when there is another group meeting in the chapel we request that game room activities be kept to a minimum as not to disrupt their meeting.
TV Lounges on both the first and second floor allow individuals the opportunity to watch their favorite TV shows or sports teams. Although, we think you'll find other guests more interesting.
Just above the lobby you'll find a Game room with a pool table, ping-pong and several video games.  Two quality pieces of exercise equipment are locate in the pool area, but we think you'll enjoy a walk outside more.