Through out the year Ladore offers a variety of different special events. Our Family Vacation Weekend, Veterans Open House, Festive Holiday Craft Fair Weekend and our Indoor Yard Sales are just a few. Providing opportunity for you to get away from the busy everyday and refocus.
---
Veterans Open House
This year The Salvation Army is once again, honored to be hosting the Annual Veterans Salute Open House to honor all veterans. We take seriously this awesome responsibility to thank, honor and to support these men and women who have made the ultimate personal sacrifice to defend the great blessings of freedom and personal rights that each of us enjoy today. We invite you to come out and join in this special celebration.
The day will be packed with all sorts of great things to do: 10:00 am the American Legion Post #807 and others from the surrounding area will present a service honoring the past and present veterans. Following the program there will be display of classic cars and motorcycles – trophies will be awarded. Boat rides on lovely Lake Ladore will be offered. The Wayne County Office of Veteran's Affairs as well as other programs and organizations that service veterans will be on hand to help with any veteran related questions.
Enjoy some great toe tapping music along with a cup of fresh coffee and donuts supplied by the The Salvation Army – if you have ever been in the military service you know the SA knows how to make coffee. Don't forget to stop by the flea market/yard sale where there is always a bargain to be had and something you could certainly use; vendor spots are still available.
A picnic lunch (freewill donation) at noon will be provided for all who attend. This is a great opportunity to enjoy some good food and fellowship. This Open House will be held August 2, 2023 between the hours of 10 am and 3 pm at The Salvation Army's Ladore Conference Center; located at 398 South Street in Waymart, PA. Call us today (570-488-6129) to reserve your spot for lunch or to pre-register your classic car or motorcycle. We look forward to seeing you there.
---
Senior Expo
Calling all of Lackawanna & Wayne County's 50+ Crowd, to this one-day Senior EXPO that has been designed with you in mind. Individuals interested in learning about products and services available to them in the area are invited to attend the 7th Annual Lackawanna & Wayne County Senior EXPO, Thursday, October 26, 2023.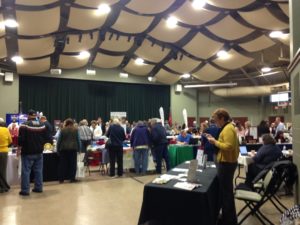 The Senior EXPO, presented by The Salvation Army/Ladore Conference Center and Rep Jonathan Fritz will be held at Ladore Camp in The Pavilion, 287 Owego Turnpike, Waymart, PA 18472, from 9:30 am to 12:30 pm. Refreshments are compliments of Rep Fritz and will be served throughout the event. Parking and admission to the EXPO is FREE.
Exhibitors that represent a wide range of expertise will provide you with resources and information that will foster healthy and productive lifestyles that range from areas of wellness, travel, financial planning, nutrition, home improvements, retirement living and much more. Get the chance to talk one on one with the people who have the answers. There will be several seminars throughout the day. Check the paper for times.
We are confident it will be a great day and we invite you to come out and to be part of the premier senior event this fall. Contact Ladore at (570-488-6129) to make your lunch reservation. Join us for this adult "trick or treat" event.
---
Family Vacation Weekends
June 30 – July 2, 2023
July 28 – July 30, 2023
Join us for an unforgettable family vacation at Ladore. More and more families are making this weekend an annual event for the whole family. Why not try to get the grandparents, aunt, uncles, cousins, brothers, and sisters all together for a family reunion? We'll provide all the activities and even the food. All you have to do is come and enjoy your time together. There will be games for all ages, boat rides, paddle boats, swimming, shuffleboard, bocce, table tennis, horseshoes and an 18 hole handicapped accessible miniature golf course. We have a cabinet full of games and there are crafts for young and older artisans. An evening movie is sure to delight after a busy day of activities. We will continue the family devotions around the tables in the dining room as we share some of God's blessings with each other. Pick up your phone and make your reservations today before all the rooms are booked.
PLEASE CALL TO RESERVE A SPOT BEFORE SENDING IN REGISTRATION FORM
---
Christmas at Ladore
December 4-8, 2023
During your stay enjoy Christmas caroling and reminiscing of Christmas' past around the fireplace, be on stage for our holiday inspire amateur night, travel to the VA Center in Scranton to spread the spirit of Christmas as part of our bell choir. Enjoy water aerobics, games, Christmas crafts, our holiday auction, bingos with" Secret Santa" prizes and so much more! Please bring a new item for the auction table and a $1 item to add to our "Secret Santa" bingo prizes, money for your crafts, auction and shopping. Plan a Christmas inspired talent for amateur night. Bring along a warm coat, hats and gloves for our outdoor activities and don't forget your bathing suit for fun in the indoor heated pool and hot tub. Our first week was such a success (sold out) and many still wanted to come so we have created a second week. Take advantage of all the same wonderful activities and fun. Remember, if you used a scholarship during the past year, you have the chance to use it again for Christmas at Ladore – that is the only other time you can! Don't miss this wonderful opportunity. Call today for more details.