s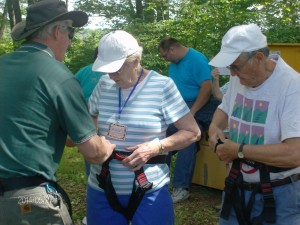 This years Senior Sessions have added our Ropes Course as an activity.  We weren't sure how many would respond to this option, but more and more are taking the challenge.  Our Operations Manager, Mark Scott, begins by giving safety instructions, and then making sure that everyone is properly harnessed.  One of the key rules is that everyone is to encourage those attempting any activity on the course.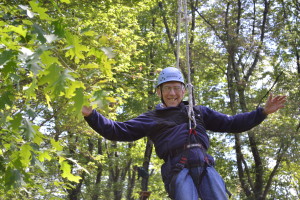 One of our first participants rides the zip line.  He was supported by others on the ground in both climbing to the launch platform, and then in desending from the landing pad.  It's a thrilling experience to glide several hundred feet between large trees.  The expression "you can't teach old dogs new tricks" certainly isn't the case for those taking the challenge.
Seniors sessions continue through mid October and there are still some avaiable dates.  Accomodations are on a first come, first served basis, so contact us soon.