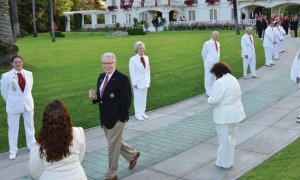 Tournament of Roses' Flinn Leads from the Front and By Example
• Wednesday, 24 June 2015 22:21
• Written by Charlie Peters
Photo courtesy Pasadena Tournament of Roses Bill Flinn (dark jacket) is at home at the Tournament House, especially when in the company of dedicated volunteers.
• Published in News Spotlight
Charlie Peters
Photographs and memorabilia befitting the leader of a world-famous organization line the walls of Bill Flinn's spacious office, which is tucked deep in the Tournament of Roses' headquarters on Orange Grove Boulevard.
There's a photo of one of Flinn's ideas being decreed … in the Oval Office, by President Ronald Reagan. Nearby, a soccer ball in a glass case doubles as a thank-you note from the sport's greatest player, Pele. And everywhere are photographs of Flinn with local leaders and nationally known figures.
But ask the executive director about his story, and he passes by each keepsake and points to a small, grainy photo near his desk. Taken in eastern Pennsylvania almost 60 years ago, the photograph shows four generations of Flinn men dressed in traditional Salvation Army clergy uniforms. The youngest is Bill, a 4-year-old who already knew of the Rose Parade from television broadcasts.
What the little boy didn't know then was that his connection to what his uniform represented — the tenets of its faith and even the music spreading the Salvationist message — would one day bring him to a volunteer-led organization with a similar philosophy. When it comes to community, citizens have a responsibility to give more than they get.
"The roots of where I come from has influenced and defined me, but it doesn't define me as the CEO and executive director of the Tournament of Roses," said Flinn, who has been with the organization for nearly 35 years. "It taught me that community is important, and you have a responsibility to be a part of it."
Volunteerism led him to Pasadena in the late 1970s when he became the band director for the Salvation Army, and before long, he was marching in the parade he had watched as a boy. As is often the case, the white-suited Tournament of Roses volunteers caught his eye and he soon joined up, citing the organization's commitment to community as a whole.
On the eve of his first Rose Parade, Flinn was assigned to guard a barricade on Bellefontaine Street all night. When his replacement arrived in the morning, Flinn dashed off to change and join the Salvation Army band in formation, just in time to march up Orange Grove Boulevard and turn onto Colorado Boulevard. After the parade finished, he changed back into his white suit and picked up "No Parking" signs all down Orange Grove. The exhausted volunteer hadn't been to sleep in 36 hours, but said he never felt more awake.
The story comes as no surprise to Pasadena Christian School Superintendent Steven Gray. He first met Flinn because he was a parent of PCS students Derek and Meredith, but Gray said he really got to know Flinn when the latter joined the school's board of directors and led multiple major fundraising efforts that transformed the look and feel of the campus.
Photos courtesy Pasadena Tournament of Roses
With a background in communications, Bill Flinn takes an active role in nearly every facet of the Rose Parade's production.
"What makes the Tournament of Roses work is the volunteers, and Bill himself takes volunteerism very seriously. He takes volunteerism as seriously as his paid responsibility; it's not a secondary thing," Gray said. "Pastor John Maxwell said, 'Everything rises and falls on leadership,' and Bill exemplifies quality leadership that allows people and organizations to rise with him. I've seen it in everything he's touched."
Bill Flinn started as a public relations representative, a role that led to royal encounters, such as this 1981 chat with Rose Queen Leslie Kawai.
And his long-term commitment isn't lacking, either. Flinn was the choir leader for the Salvation Army Pasadena Tabernacle Songsters for 23 years and he's still the bandmaster for the chapter's band.
As for his professional career, by nearly any measure, his tenure with the Tournament of Roses has been a success. Working first in a public relations role under longtime lead administrator Jack French and eventually succeeding him as the executive director, Flinn either spearheaded or assisted on efforts to launch marketing and sponsorship programs and to modernize the infrastructure of the organization. He made calls to military friends to arrange for the stealth bomber flyover on New Year's Day and led branding efforts for a single rose design to be used as a logo. And when he heard the rose would be designated as the official flower of the United States in 1986, he wrote to the White House to remind President Reagan how much the Rose Parade and Rose Bowl Game had done for the flower's fame, leading to an invitation to the Oval Office.
Flinn is quick to point out
that he has nearly 1,000 volunteers at the ready to help the organization move forward, and he tries to deflect praise. That, according to those who know him best, is just another example of his high character.
"He will never compromise ethically," said Gray. "He's a man of great principle and truth, and he won't fudge on anything."
Pasadena City Manager
Michael Beck, who has worked closely with Flinn since 2008 regarding the city's relationship with the Rose Parade and Rose Bowl Game, echoed the sentiment. While a contract defines the parameters between the city and the organization for the lease of the parade and football game, Beck said the master license agreement never covers all of the contingencies that arise when hundreds of thousands pack the city every Jan. 1. But while most city managers are a nervous wreck over potential missteps resulting from a non-governmental agency managing the streets for a full day, Beck said he always has confidence in Flinn to make the right decisions for the right reasons.
"You have to have somebody on both sides in which you have the utmost confidence, and you [need to] know the individual is going to consider and evaluate what the best interests of the organization and the city are, not what's best for the person [making the decision]," Beck said. "He's a highly ethical individual and has a high moral compass."
But, somehow, Flinn makes it all look easy. Former Tournament of Roses President Scott Jenkins marveled at Flinn's ability to seamlessly lead nearly 1,000 volunteers that rotate throughout 31 committees, while Gray lauded Flinn's easygoing nature leading up to the big day. Gray said he always phones Flinn a few days before the parade and worries about how busy his friend must be. But without fail, Gray said Flinn will reply, "I'm not too busy because if it's not done by now, it won't get done."
His calm demeanor and reassuring tone not only make him the perfect face of the organization but the voice of it, too. According to Jenkins, Flinn has a "marvelous voice with resonance to it." The Tournament of Roses often uses a recording of Flinn for the beginning of the parade or at Tournament House events rather than a professional announcer's voice.
"It's like the voice you might hear in the loading zone at LAX or at Disneyland, but his is more melodic," said Jenkins, who recently traveled to Idaho with Flinn for a meeting with Pac-12 officials. "He's got a comfortable texture to it."
But one thing you won't hear the voice of the organization verbalize is any gloating about his achievements. Invariably, Flinn will always bring the story back to the power of people committing to their community and the heights that can be reached by working together.
"This is about a lot of people doing a little rather than a few people doing a lot," said Flinn. "People [here] are doing their part to make the world a little better. It's not about a parade and a football game, this is about growing new leaders."