The real meaning of Christmas was front and center throughout this year's "Christmas at Ladore".  Thirty-six old and new friends gathered to spend 5 days enjoying friendship and the beauty of the lodge decorated in it's holiday finery.  The gingerbread and candy encrusted 12 ft tree in the lobby, and the elegant snowflakes adorning the dining room were reminders of Christmases past.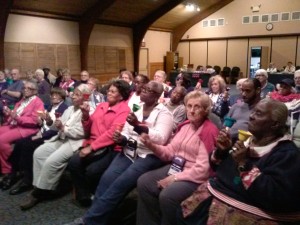 One evening was dedicated to singing Christmas carols and sharing holiday memories around a blazing fire in the lobby.  One shared a time when economics made Christmas trees scarce and costly.  Her family couldn't afford a tree, so they gathered up several pine limbs and fashioned their own.  It brought Christmas joy to the family during tough times.  Others remembered the annual Christmas pageants at their churches. The children would practice their parts for weeks ahead, and everyone came together to celebrate the birth of Christ through simple reenactment of the nativity story. Others remembered when they would bundle up and go out into the neighborhood to sing Christmas carols.  Some of the neighbors always invited the carolers in for some cookies and hot chocolate. There was sadness that many of today's children don't have these experiences.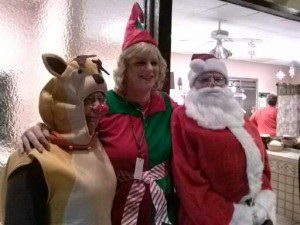 Devotional thoughts throughout the week centered on "people around the manger".  Major Glenn and Bonnie Snyder took turns sharing how various characters may have felt, and what we can learn from them.  Joseph had to deal with the sudden news that Mary who was betrothed to him, was pregnant.  Like Joseph, we need to step back and ponder before making decisions.  We were also reminded that God helps us through the tough times of life.  A visit from Mary helped us realize the conundrum she faced as a teen about to bear the Son of God. The innkeeper gave us insight into lodging in those days, and that little was available so he gave what he had to a very pregnant Mary and concerned Joseph. Even the little we can give can make a difference.The Angels were very active in the announcements to Mary and Joseph, and of the actual birth of the Savior.  We considered the wonder they must have experienced in God sending his Son to our tiny speck of a planet to live among people who often rejected and despised them.  How much He must have loved these people! The final morning included the visit of an elderly shepherd from the hills of Bethlehem.  After describing the events of the announcement that Christ was born, he marveled at how the experience changed the younger shepherds who had gone to see.  They asked him what it meant.  His response, "It means that God hasn't forgotten the shepherds, nor has he forgotten the people of this world."  A  message to us all, even today.
Evenings included a talent show with melodious gospel versions of carols and songs, poems, and Christmas stories.  The final evening featured a Christmas banquet followed by a concert by the Lenoxville Band.  Consideration was given to other entertainment but the band was so disappointed, we reconsidered.  It was a memorable night of brass and singing popular Christmas songs.
Many expressed how meaningful this year's Christmas at Ladore was.  Some who have attended for several years said that they felt that this was the best Christmas at Ladore ever.  Most will be back next year, but there's room for more to "jump start" the Christmas season through this very special week.